7 Useful Singapore Travel Apps That Will Save Your Life

Having some of the Singapore travel apps on your phone is such wonderful decision before you go to this country, through this page I will tell you 13 apps that often use by local people and visitors to recognize the city, get the detail information about transportation, and tell everything that you need.
Hi Bima here and thank you for visiting my blog, I travel regularly to Singapore since this country already become my 2nd hometown since I went there for my honeymoon. I have a brother who stay in Boon Lay too so when I was there I sometimes goes to Boon Lay to meet my niece and bring some of local gift from our hometown in Yogyakarta.
Before I start to telling you about the apps, it might be good too if I can share some basic requirements that you need to know if want to visit Singapore.
Where is Singapore?
Singapore is a small country in Southeast Asia that really close to Indonesia and Malaysia, generally you can go to Singapore from the air, sea, and land. If you willing to fly than you can check your flight ticket to Singapore that will guide take you to one of the most outstanding airport in the world called, Changi.
Goes to Singapore by sea will also interesting cause you can use ferry from Batam Indonesia and touch down in Harborfront which is really close to Sentosa Island, another small island that provides entertainment and also the Universal Studio of Singapore.
The 3rd option is visit Singapore by land, through this way you can ride with the bus, private car, or even with a train from Johor Bahru Malaysia.
Before You Arrive
Since it located in Southeast than all visitors from Southeast Asia country are able to visit Singapore with FREE visa but if you come from other countries than you can check Immigration and Checkpoint Authority to get clear about it.
In case you want to see how is the arrival immigration look a like than you can also watch this cool video.
Where to stay in Singapore
There are hundred of recommended hotels in Singapore that you can book, here I wrote back couple days ago about Best 5 Star Hotel in Singapore that I really recommend you to stay.
Here I recommend you to use these 3 amazing platform that I often use both for my business trip and leisure with family, there are:
13 Useful Singapore Travel Apps That Will Save Your Life
Now we talk about Singapore travel apps that commonly used by local people and visitors while they travel to Singapore, some of them are available in IOS and Android but some of them not, so here we go!
1. Visit Singapore Travel Guide
Singapore is a city with tons of things to see and through this apps you will see any kind of experience that you can get in Singapore, currency exchange or even the nearest Wifi from you.
That wouldn't stop here cause this apps will give you also food recommendation and place of interest that most people don't know.
At the end you are able to save some favorites of your own. Here you can download Visit Singapore Travel Guide apps to help you figure out about Singapore
2. Burpple
Every year they research about their HOT 100, it's a most recommended place to eat in Singapore and Kuala Lumpur based on review of the users.
So generally Burpple is an app that focus on giving you recommendation of culinary and you can download this apps both for IOS and Android.
3. Chope
Basically Chope is an app that works as well in Singapore, Hong Kong, Shanghai, beijing, Bangkok, Phuket, Jakarta, and Bali. Just like their rival, but Chope is focusing to restaurant reservation in cities that I told you before, here you also can see the address, prices, menus, or even reviews from past guest.
Chope can be downloaded in ISO and Android too
app helps you discover and make instant online reservations at the most exclusive restaurants in Singapore, Hong Kong, Shanghai, Beijing, Bangkok, Phuket, Jakarta and Bali. Including features like addresses, prices, menus, reviews, recommended dishes, as well as exclusive offers, it is the smarter way to book!
4, Citymapper
In Citymapper you can figure out the bus schedule in a 39 cities route around the world and even it applicable in Singapore too.
With its feature of Smart Ride, than you are able to find bus or cab that can be shared to other passengers and it will make your cost decrease cause it is shared with others.
Citymapper will applicable on IOS and Android store
5. GoThere
The fifth of Singapore travel apps that you should consider is GoThere,
It's a brilliant apps when you need some direction on the go, they will tell you the address, specific location and for sure some facilities like ATM, gas station, and etc once you on the way to your location.
Sadly I could say that GoThere is only applicable for IOS
6. HungryGoWhere
I found this apps many times when I travel or write some recommendation so HungryGoWhere is your best apps when you want to find restaurant or eat spot nearby your location.
Here you can find also specific restaurant that you want to visit such as burgers, pizza, pasta, or even dim sum.
You can download HungryGoWhere both for IOS and Android store
7. iChangi
I personally recommend you to have the last Singapore travel apps that I wrote in this post, iChangi!
Back in 2015 when I on the way to Maldives, I have to wait for 9 hours in Changi so in case you face the some situation just like me so this app will help you to figure out what things to do in Changi.
As you know as well that this airport is huge and a lot of facilities that you can use both in free and paid so definitely put this app on your phone. You can download this amazing app both for IOS and Android

Recommended guide to Singapore
Back couple weeks ago when I bought my first book through Amazon that I feel satisfy with their services, so no matter where you are, once you decide to go to Singapore for traveling than I got 2 awesome books that I recommend you to read.
Here you will know the history of Singapore and for sure the best travel guide to sightseeing around the city, check these 2 books below:

From third world to the first – the Singapore story 1965 – 2000
Everyone knows than Lee Kwan Yew is the founding fathers of Singapore, a great who change this poor fisherman country into world class country that even richer than other country at the present day.
This book will telling you about transformation of Singapore with his charismatic and controversial decision than have been made to make this country greater than before. Here you can buy this book on Amazon for just US$21.8
I think everyone is agree that Lonely Planet still the best references for sightseeing guide in printed paper so here is one the best book that you can read before you go to this country.
You can buy this book both for kindle and paperback version and the cheapest price which is for kindle is only US$14.39 on Amazon
2 Beautiful Gardens in Singapore That I Personally You to Visit
It's called Chinese Garden and Singapore Botanical Garden.
Chinese Garden
When I stayed with my brother in Boon Lay, I decide to take a morning train to Chinese Garden MRT Station and just look around what I could see in this place. I came out from the railway terminal building and found a long way of path to such a nice garden.
I arrive there at 6 am and got amazing experience out there, here I see beautiful gardens (Chinese and Japanese), statues, pagoda, and some people who practice Tai Chi in this park
Singapore Botanical Garden
In Singapore Botanical Garden there are two separates area where you can visit in free and paid, I visit the free one and got such beautiful parks where people do morning run. There are also Orchid Park and I think you should pay with an additional fee to go in.
You also can visit this park when you travel with Hop On Hop Off Bus, cause some buses will stop also in this garden. In case you fly with Singapore Airlines and got over than 6 hours transit than you also will have free city tours and one of the places that be stopped by is Singapore Botanical Garden.
Let me show you some photos that I captured in this park,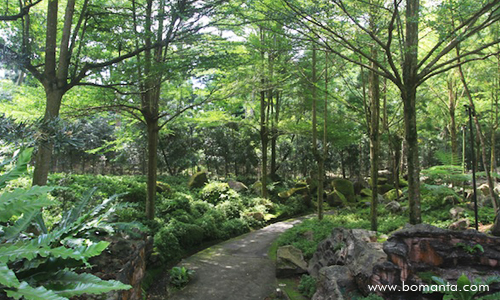 I still have several series of Chinese Garden and Singapore Botanical Garden photos in high resolution, once you interesting with my photos than you can but it online on Shutterstock
So this gonna end of my Singapore travel apps story and really hope you enjoy with it,
If you willing to ask something about Singapore just drop me a comment below and I will try to reply as fast as I can, Cheers!