11 Authentic Hong Kong Street Food That You Really Really Must Eat
Hi I'm Boma and thank you for visiting my blog, I just come back from my 2nd trip to Hong Kong and here I will let you to know and see what Hong Kong street food that I really recommend you to try while you travel to this amazing city. No more diet, seriously! cause all the street food vendors will always shout you to come and come and when you smell the flavor and see it all directly in front of your eyes than I surely that you will stop (just like me) and ordering some food for again and again. But before I start this story I will give you some introduction about Hong Kong, just in case this gonna be your first time to visit Bruce Less's home town…
Introduction
Hong Kong is a Special Administrative Region of China, as you know that before China, Hong Kong is a colony of the Britain and all the system are under the United Kingdom so that's why they still have very good relationship with the UK. With over than 7.4 million citizen in 1,104 square kilometer territory this busy city will provide you with their best authentic cantonese culture and food.
When you visit Hong Kong by air so you will landed in Hong Kong International Airport or known as HKIA, a huge airport with connecting transportation system like Airport Express (train) and direct bus to the city. You may sightseeing around the city with the MTR and simply tap your octopus card which you can buy in the airport and it's very simple to move around. As a common question from the readers, that I will give you some recommendation about accommodation in Hong Kong.
Accommodation Suggestion
Stay with Airbnb – Filtering your host by click on the superhost will bring you to the only host that highly recommended and always receive the 5 star review from the guest. When you are in 1st time to use Airbnb, than you may use my referral credit to get USD33 stay voucher with USD70 minimum transaction on Airbnb, get the voucher here
Stay with Agoda – For 1 star or budget hotel I could recommend you to stay in Marrigold Hostel (50 meters from the east Tsim Sha Shui MTR St.) and Yes Inn Hostel (100 meter from Fortress Hill MTR St.). But in case you want to get better stay experience no matter for business purposes or traveling with special person than I recommend you to stay in Ovolo 256 and Four Season
NOTE – With those links above I do the affiliate program where I can get a small commission percentage from your reservation without any extra effort for you at all. Thank you so much for using it cause you help me as well to maintain this blog by creating useful articles and reviews about traveling.
Now are you ready for the Hong Kong street food? Stop your diet for little while and enjoy these 11 tasty food…
1. Egg Waffle
You may simply get this authentic Hong Kong waffle almost in every corner of the city, the vendors will cook this waffle in a pan within 5 minutes and pack it up in a  brown paper just like what you see below, it cost HKD10-15 (US$1.2 to US$2)
2. Siu Mai
Siu Mai is definitely a traditional tasty food, when you travel around Hong Kong or mainland China than you will see street vendors sell this kind of food easily. Here, for 1 portion of Siu May will consist 5 pcs and they will pack it in a cup, put some soy sauce, and a small chop stick for you to eat., it cost HKD15 (US$2)
3. Baby Octopus Satay
This octopus satay is truly killing me, when I went to Hong Kong for 1st and 2nd time I keep bought it and eat it again and again. It's octopus baby! I see the vendors took the octopus from the boiled water, cut it down into a small pieces and put it in a cup or they already serve it with a bamboo stick just like a satay and put a mayonnaise and BBQ sauce, try it for sure! it cost HKD15 (US$2). I create some short video just to let you know how tasty this food, it's in Bahasa Indonesia but just see how I eat it 🙂
4. Mango Pudding
Dessert is a MUST when you are here, Hong Kong people will eat it following dinner so a lot of of dessert vendors with various type that you can find in the city and here I got Mango Pudding. This pudding is serve in a plate and consist of mango sweet caramel inside, just like what you see below.
5. Mango Ice Cream
Right in the same vendors, mostly they sell various of dessert and once you're done with the Mango Pudding so DON'T STOP! now it's time for Mango Ice Cream. Hui Lau Shan and Lucky Dessert is two most famous vendors in Hong Kong that sell various of freakin' delicious dessert. These typical dessert will cost around HKD20-25 (US$2.5 to US$3)
6. Dim Sum
When you don't get this stuff than don't let any of your friend knows that you going to Hong Kong. Dim Sum is a MUST, this is the original…the authentic food of Hong Kongers since hundred years ago. Actually you may eat dim sum anytime but the real tradition is eating during breakfast (with a cup of hot tea). All dim sum will serve hot and originally in a small bamboo basket and consist of 3-4 pieces. Price may be vary but commonly it cost around HKD25 to HKD40 (US$3 to US$5)
7. Egg Tart
Both Hong Kong and Macao are compete to claim as the founder of this small sweet cake, the Egg Tart! But no matter where it come from than you must try in hot. It's sweet and a bit salty and smell so good when serve in hot, the vendors will ask you to buy in 1 box consist of 10-15 pcs or even you just buy 1 but trust me 1 is never enough! It cost HKD5-10 (US$0.6 to US$1.2)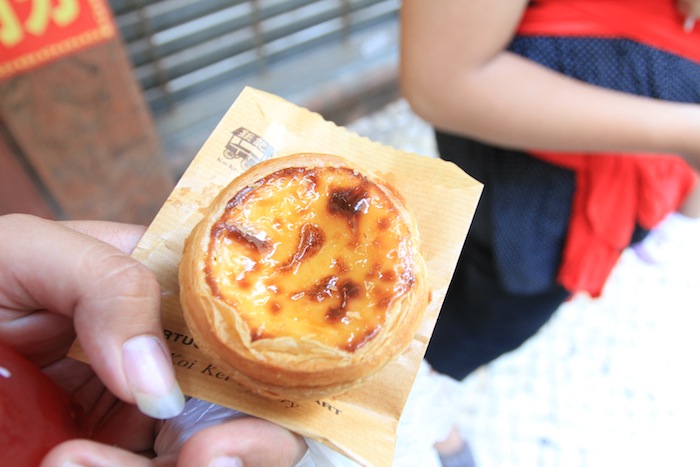 8. Pork Buns or Char Siu Buns
So when you are a porn lover than this kind of buns is made with love and definitely one fine street food that you must try before you die. Actually this pork buns is the member of 'dim sum family' so when you go for dim sum than you will find this little fat bun on it.
9. Wonton Noodle
Once I tried this variety of noodle, I truly satisfy about how they serve the meal, for me it's truly worth it when you eat during winter season. Noodle and meat are well cooked, the vegie for topping are so fresh and when it served hot than it feel so tasty on your mount, damn I got watering on my mouth now!
10. Variety of meat balls
On the same store where you get the octopus satay, you will find so many satay with different ingredient too, from fish, shrimp, beef meat ball, and the point is….1 is never enough! Some of them are fried and others are put in a meat stock before serve in a cup or bowl. Price may be vary, from HKD10 to HKD30
11. Crispy Fried Pig Leg
Heaven of Pork, this is crispy fried pig leg where you can find in a Cantonese local restaurant. It served in a big plate and consist 8 to 10 leg with a crispy topping and a little bit chop of vegie surrounding and for sure you may share with friends for it
Down here I will recommend you with some bet street food destination in Hong Kong where you can reserve online, please remind that by using my affiliate links and online reservation using a mobile app, there will be various promotional offer such as free voucher, small bucks of $$ discount, and many more.