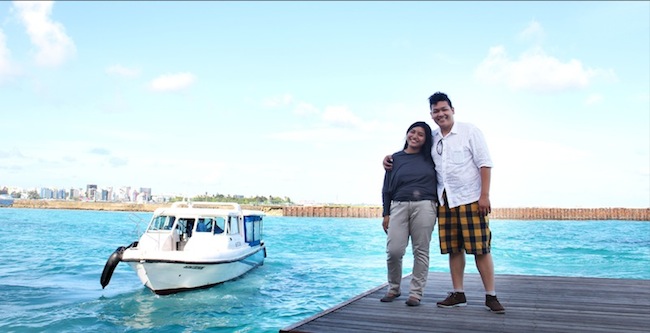 —
Siapakah Boma or Who is Boma?
Banyak yang tanya Bomanta itu sebenernya blog apaan sih, kok nulis – nulis ga jelas tentang liburan ama makan – makan, bahkan sampe bikin acara liburan bareng segala.
Perkenalkan nama saya Boma (it's just a nickname from the real name Bima Adhitya). Baru 2010 lalu saya dan istri saya Nina membuat blog ini yang awalnya sekedar bercerita tentang liburan kami, tetapi dikemudian hari saya jenuh liat foto – foto saya yang cuma narsis berdua dengan istri. Dan baru 6 bulan kemudian saya mengubah blog ini dengan harapan bisa lebih bermanfaat untuk sesama pecinta liburan.
Saya bukanlah seorang travel agent yang bikin paket – paket tur murah dan semacamnya, tetapi hingga saat ini saya merasa sangat diberkati karena bisa bekerja sekaligus mengenal tempat – tempat cantik di beberapa bagian dunia ini. Wedding Photographer adalah pekerjaan resmi saya, cuma dari kesenengan motretin orang prewed dan wedding saya suka jenuh mikirin saya mau ngapain lagi setelah selesai motret, alhasil saya muter – muter kota naik bis, naik kereta atau mass transport lainnya untuk mencoba berbagai ragam kuliner khas daerah tersebut. Dan singkat cerita jadilah blog liburan dan makan – makan bernama Bomanta ini.
Semoga kita bisa saling berbagi tips dan pengalaman seru dari cerita perjalanan yang kita buat masing – masing melalui blog ini, sehingga membantu teman – teman lain untuk lebih berani berlibur ke luar negeri maupun ke pelosok negeri ini secara independent alias tanpa tur.
—
So many people ask me what is this fucking blog about? since in this blog sometimes I just wrote about my fool experience during my journey, or even I serve people to get holiday together with me in some places or cities.
Let me introduce my self, I'm Bima, it just a nick name from the real name Bima Adhitya. In 2010 me and my wife, Nina start blogging and just share our independent travel experience but it gets me bored since I just uplod my personal photographs and food. After 6 months I change this freak blog content into the real travel blog which can help anybody to ask everything about tourism. I'm not saying I can aswer my readers question but so far I can solve it, I will share it to you.
I'm not a professional travel agent, in fact I'm a Destination Wedding Photographer who really bless by God since I can capture my client's moment is the magnificent place such as Bali, Maldives, Singapore, and many more countries. During I shoot the wedding or pre wedding for sure I still have much time to discover the cities that I visit and go to some restaurant, cafes, eat a lot of street food, using a tram or local bus, and get lost. Simply I just want to share my "other side experience" in my wedding photography journey.
I hope I can share good thing sin this blog and help you guys who want to go to Indonesia or any place around the world.
Do What You Love and Love What You Do… 
BOMA