Cheapest Way to Go to Malioboro from Adisucipto Airport

If you loved to visit Yogyakarta by flight than you will landed in Adisucipto International Airport, this airport is so crowded so once you go out from terminal building than you will bot confuse cause see a lot of local driver who offering you a taxi ride to your hotels. Here I want to share to you some alternative of transportation, which is super cheap! (that's the point for you) and the other things are it's quite clean and compliment with good air conditioning, this transport called the Trans Jogja. Here I'm gonna tell you how to use it, how to pay it, and how to reach your destination with this lovely bus, but before it let me explain for little about this peaceful city.
Words about Yogyakarta
Yogyakarta is one of special district in Indonesia since it belongs to Indonesia's capital city years ago and this city is lead by King who called the 'Sultan'. Yogyakarta it self has 5 different region, Kota Yogyakarta, Bantul, Gunung Kidul, Kulon Progo, and Sleman than every of them has different attraction and things to do that you can consider, here I got some lists for you that you can do for up to 2 days stay in Yogyakarta:
Sultan Palace – there are two entrance, front and back and every of them will have different point of interest. If you go in from the front than you will see the garden, hall, and some daily of the guards; in other way, if you go in from the back entrance than you will see the past king;s museum especially the 9th king, the father of the present Sultan.
Tamansari Water Castle – I could say that this gonna be the King's 2nd palace, so about hundreds years ago Yogyakarta is flooded by water and once the King want to get relax than he will sail with his boat to this water palace.
Malioboro – this is Yogyakarta's prime district where a lot of souvenir sellers, batik clothes store, and commercial buildings, for sure you can bargain here!
Prawirotaman – this street is so fenomenal, quite narrow but a lot cafes, bars, and restaurant down here, it simply like tourist area so this gonna be a lot accommodation and tours over here.
Borobudur Sunrise Tour – Yogyakarta is located 50km from this magnificent Buddhist temple but if you join the sunrise tours in early morning than you can reach there with only 45 minutes
Prambanan temple – This temple is famous for the love folk story of Ramayana and Shinta, all the story are well documented in its relief
Ramayana Ballet show –  when you finish to see the relief of Prambanan and want to see the story in different than you can see this show at night directly when the Prambanan temple is close, yes it is near by from temple
Ullen Sentalu – Beautiful and stunning Batik museum located nearby the Merapi national park, here you will our king's batik collection since hundred years ago
Hotel Recommendation
*Affiliate links – I put an affiliate links above and once you book through those links, even not the same hotels than I will get small percentage with NO extra cost for you. Thank you for that cause you support me to keep writing in my blog
Trans Jogja
When you see metro or subway, than here Yogyakarta got another type of that kind of transportation but in a bus type. Regular price will be IDR3.600 (USD0.30) for whole area that covered in the lists. You may pay in cash or tap an electronic card which you can buy in the bus stop it costs IDR25.000.
Once you go out from the airport terminal building than take a little walk to the car parking area and go find the Circle K convenient store, just get more short walk than you will find the Trans Jogja bus stop within 50 meters from the conv. store. No matter where you go just simply ask the officer inside the bus stop building, even I'm not pretty they able to speak in English but they are super kind people so just show your hotel's address or location that you want to reach.
If you stay nearby Malioboro than you can take the 1B bus and stop at Taman Pintar bus stop, located only 200 meter from teh Malioboro street.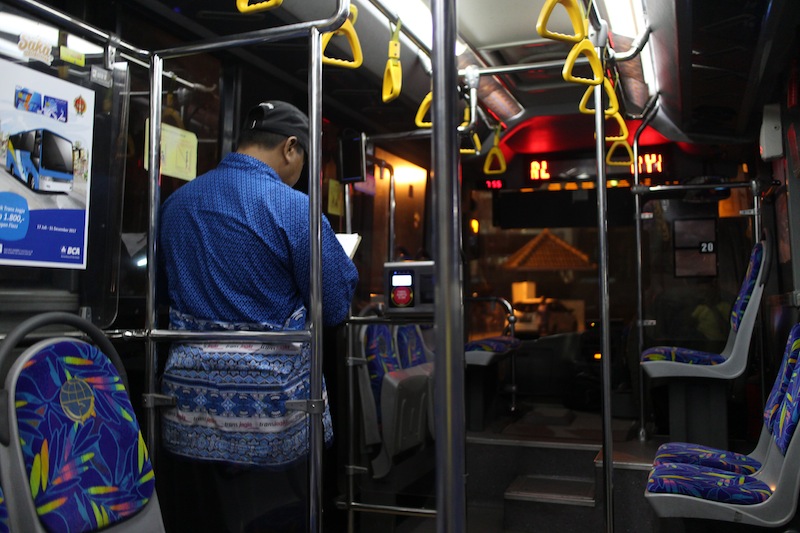 I uploading some of Yogyakarta's travel photos on Shutterstock so once you want to use for your blog, company, or brochure than you buy it, all your purchase will support me to keep writing about good information around the world, thank you for that.
Hope this information useful for you and once you need a question or simply say hi to me kindly leave a comment below.